Within the framework of the project "Raising Voices, Creating Opportunities – II" (for persons with disabilities in the period 2021 – 2024) funded by the United States Agency for International Development (USAID), on October 11th-12th, 2023, ACDC in collaboration with the Project Coordination Unit and relevant agencies organized home visits to 27 households of persons with disabilities in Nam Dong and Phu Loc districts, Thua Thien Hue province.
During 2 days, the counseling groups including socio-cultural officers, health workers, and members of the local OPDs enthusiastically counseled persons with disabilities and their families on independent living, guided rehabilitation exercises, and encouraged persons with disabilities to participate in local social activities. Besides, health workers counseled persons with disabilities and their carers specifically on healthcare issues such as diet for blood pressure, cardiovascular diseases, guiding on caring for ulcers and amputations, etc. In addition, through the toolkit on physical accessibility, the counseling groups also detected and helped these households identify unsafe factors in the living environment such as uneven and slippery roads, high steps, toilets without handrails, slippery floors, etc. From there, they promptly advised and supported these households to actively renovate housing items to ensure convenience and optimization for moving and daily activities of persons with disabilities. At the same time, policies on loans, employment orientation for persons with disabilities, procedures for identifying the level of disability, and other related issues have also been consulted clearly and specifically by socio-cultural officers.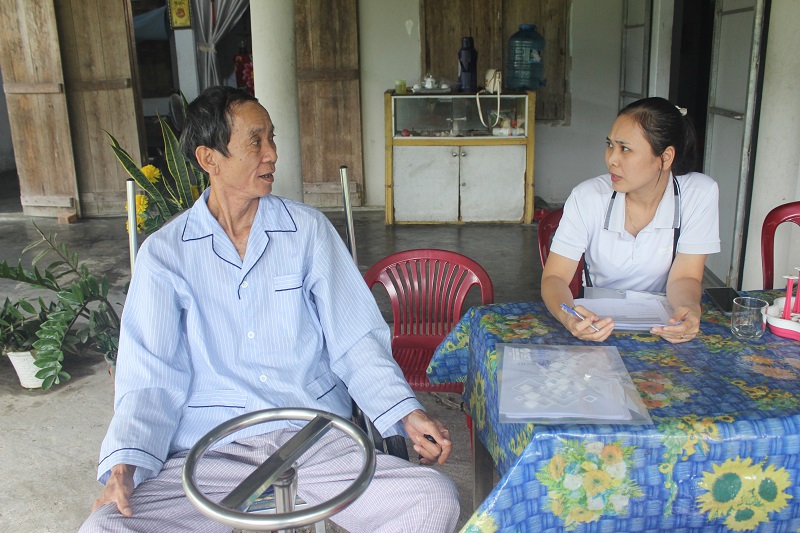 The counseling group visited persons with disabilities' houses and counseled them on rehabilitation exercises to improve their quality of life
Ms. Ngo Thi Trang – a Health Officer of Nam Dong district shared: "Through the training courses of the project and this home visit to counsel for persons with disabilities, I have a more specific understanding of persons with disabilities' health status, their living circumstances and daily activities. Through the counseling, persons with disabilities were provided specific health advice, guided, and shared to solve some of their problems. From there, persons with disabilities understand the true meaning of independent living, helping them to be more confident in communication, changing their perception, and thinking, and being more confident in their life. Through this, I also learn more knowledge, and skills and can delve deeper into the lives of persons with disabilities. The activity is very meaningful and helps a lot for persons with disabilities."
Assessing this home visit, Mr. Luu Binh Hung – a member of the OPD in Phu Loc District said: "This activity is very meaningful to persons with disabilities. This is an opportunity for officials like me to understand their circumstances better and timely counsel on independent living, housing renovation, and spiritual encouragement for persons with disabilities. This also helps persons with disabilities feel a sense of caring, contributing to encouraging them to integrate into the community."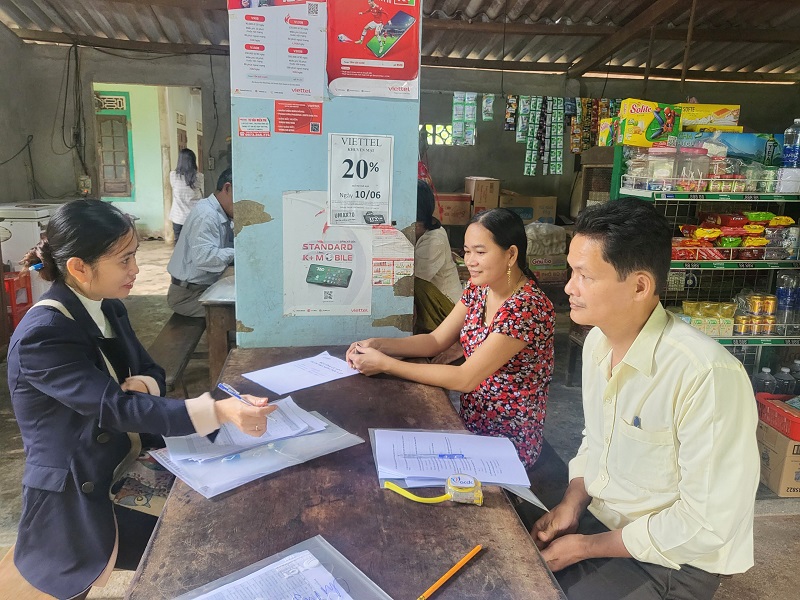 Persons with disabilities received care and encouragement to strive to reintegrate into the social community
This activity not only contributes to improving skills for local officials in supporting persons with disabilities in the area but also changes the perception of persons with disabilities about independent living, thereby rising in life and integrating into society.
Mr. V.D.T –a person with a disability in Nam Dong district shared: "Thank you for caring for persons with disabilities like me. Today, thanks to the counselor, I also found some unreasonable areas in my house that I haven't noticed. In the coming time, I will try to follow the instructions of the officers."
This is a practical activity in a series of the project's activities to improve the ability to live independently and integrate persons with disabilities in the community. In the coming time, the project and counselors will continue to monitor the changes and improvements of persons with disabilities to continue to visit these households the next time.