Developing clubs for WGWDS is one of the priorities in the project's initiative to minimize sexual violence. Thanh Khe District WGWDs Club was established to meet the needs of exchanging and sharing information, along with helping each other in life.
The Club was officially established on December 18th, 2018. Since then, it has become "the second home" for WGWDS in Thanh Khe District to not only gather and share their thoughts and desires, but also obtain new knowledge and skills. At its monthly meetings, the Club has organized a number of meaningful activities for its members such as celebrations of Vietnamese Women's Day, Vietnamese Persons with Disabilities' Day, Children's Day for members' kids, etc. In particular, the members could also gain information about sexual violence against WGWDS, thereby making recommendations to mitigate this situation.
In order to have better interaction with the members, the Club's core members visited each member's house to listen to their stories in person despite difficulties in travelling and transportation. This activity has also made Club members being close to each other and more confident in sharing their stories with core members. Their thoughts and desires have been received and supported. Some members who wanted to attend vocational training courses and go to work were offered appropriate jobs. For some others who had not received social allowances, the Club contacted the District's Division of Labor, Invalids and Social Affairs to carry out the procedures. Particularly, in cases of WGWDs experiencing sexual violence, the Club provided them with peer counselling in addition to connecting with local authorities involved in the support network for WGWDs for timely assistance.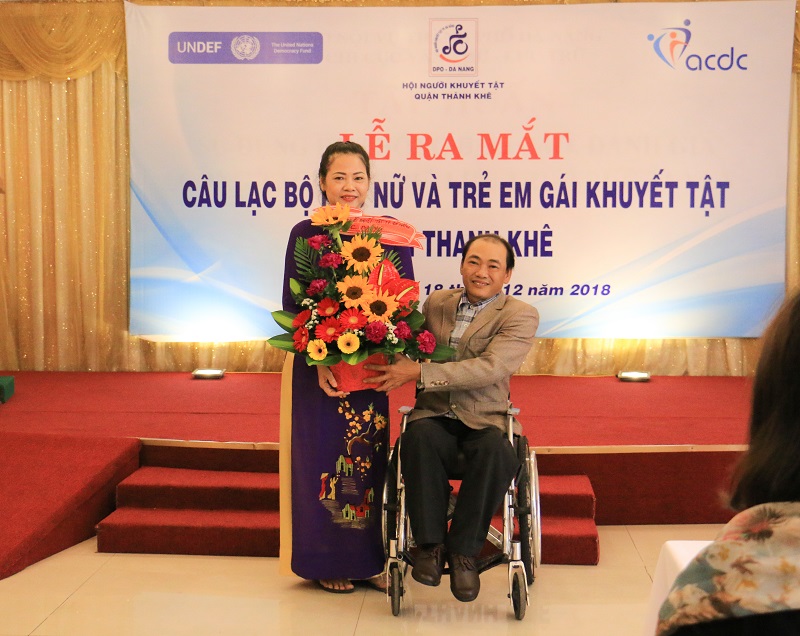 The Club's core members have actively contacted and connected with the authorities to seek support when necessary. At local and national workshops, the Club was confident to represent local WGWDs in direct discussions with the authorities about sexual violence issues to protect their legal rights.
"During our first days of mobilizing local WGWDs to join the Club, we faced a lot of difficulties for different reasons. Even when we visited their houses directly, it was not easy to convince them and their families. Trying to evade and having inferiority complexes about their disabilities, many of them just stayed at home and did not dare to go out. By witnessing such cases, we were really sad, but determined to persuade and encourage them more so that the members and their families could realize: no matter how many difficulties the disability might cause, they are not as scary as the fact that we give up. Social inclusion is a way for us to make our own lives become more meaningful and happier," said Nguyen Thi Hanh, Head of the Club.
So far, the Club has involved 60 WGWDs in Thanh Khe District, Da Nang City, and really become their second home.
Source: When the silence speaks