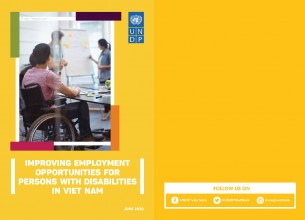 Report research on "Improving Employment Opportunities for Persons with Disabilities in Viet Nam" produced by UNDP. The leader research team is Mrs. Nguyen Thi Lan Anh - Director Action to the Community Development Institute (ACDC).
This study aims to explore existing bottlenecks on employment, career development and entrepreneurship of PWDs by analysing the legal and policy framework of employment for PWDs in Viet Nam, interviewing PWDs in the labour market, policymakers and representatives from non-governmental organisations to assess the current situation in Viet Nam against international best practices.
The overall objective of the study is to better understand the current situation of employment for PWDs in Viet Nam and to contribute to the development of the new national action plan for assisting persons with disabilities for the period 2021-2030, building on the previous National Action Plan 2012-20, to strengthen the mechanisms of inclusion of PWDs in the society to accelerate the achievement of the SDGs.
The study identified the following 05 key challenges faced by PWDs in the labour market; 09 gaps in national legal and policy framework; 04 international best practices on employment policies for PWDs were identified for potential implementation in Vietnam; 06 good corporate practices in Viet Nam were identified.