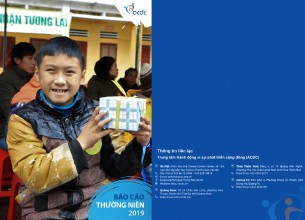 Action to Community Development Center (ACDC) was established on 02 November 2011, undertaking the mission to pioneer in creating a better living environment for people with disabilities (PWDs) and disadvantaged groups.
ACDC has been operating for 8 years and gone halfway to completing the 2016 - 2025 strategy. We have witnessed a lot of considerable changes in PWDs' movements as well as the community's awareness of inclusion. These are positive signs that have recognized the efforts of PWDs, the contributions of DPOs, including ACDC.
Adhering to the principle "Sharing beliefs and empowering" PWDs in Vietnam, in 2019, ACDC carried out a variety of activites and new models to support PWDs in gaining equal access to opportunities and improving the quality of their life. Above all, the strong will of PWDs and the community have become the biggest motivations for ACDC to overcome difficulties and challenges to cooperate with PWDs, policy formulating and enforcing agencies for a world where "nobody is left behind".
On behalf of all ACDC staff, I would like to express my gratitude to PWDs, partners, sponsors and friends. The new decade has begun, and I hope we will still continue to work together to achieve equality, progress and inclusion for everyone, aiming at 17 global Sustainability Development Goals (SDGs).
Best regards,
Nguyen Thi Lan Anh
Director of ACDC
----------------------------------------
Annual Report 2019 details here