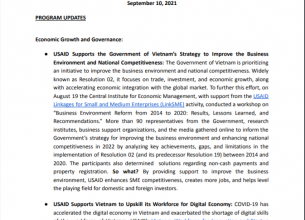 PROGRAM UPDATES
Economic Growth and Governance:
● USAID Supports the Government of Vietnam's Strategy to Improve the Business Environment and National Competitiveness: The Government of Vietnam is prioritizing an initiative to improve the business environment and national competitiveness. Widely known as Resolution 02, it focuses on trade, investment, and economic growth, along with accelerating economic integration with the global market. To further this effort, on August 19 the Central Institute for Economic Management, with support from the USAID Linkages for Small and Medium Enterprises (LinkSME) activity, conducted a workshop on
"Business Environment Reform from 2014 to 2020: Results, Lessons Learned, and Recommendations." More than 90 representatives from the Government, research institutes, business support organizations, and the media gathered online to inform the Government's strategy for improving the business environment and enhancing national competitiveness in 2022 by analyzing key achievements, gaps, and limitations in the implementation of Resolution 02 (and its predecessor Resolution 19) between 2014 and 2020. The participants also determined solutions regarding non-cash payments and property registration. So what? By providing support to improve the business environment, USAID enhances SME competitiveness, creates more jobs, and helps level the playing field for domestic and foreign investors.
Download: USAID Vietnam Weekly Report, 10.09.2021