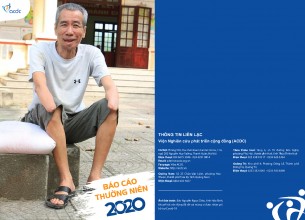 Action to the Community Development Institute (ACDC), formerly known as Action to the community Development Center (ACDC) is a local non-government organization founded in 2011 working for and for persons with disabilities in Vietnam, support persons with disabilities and other vulnerable groups in the community in many aspects of their lives. Nearly ten years, ACDC has been striving relentlessly and has established many innovative marks in its mission of empowering the rights and building a society without barriers for persons with disabilities in Vietnam.
The year 2020 witnessed great changes with many difficulties and challenges not only for Vietnam but also globally. This is also the year marking the maturity of ACDC when implementing the new strategy for the period 2020 - 2030 of the Action to the Community Development Institute. With the efforts and enthusiasm for the community of persons with disabilities, the solidarity of members and the companionship of our partners, friends and colleagues, we are still steadfast in our mission of "Sharing vision, bringing empowerment", which was selected 5 years ago and will also be the motto of ACDC for the next 10 years.
We hope this annual report will give you a better overview and understanding of the activities ACDC has carried out this year as well as the values we are aiming for in the new phase.
On behalf of the ACDC, I would like to express our sincere thanks to ministries, ministerial-level agencies, provincial People's Committees, departments, agencies, organizations for persons with disabilities, organizations of persons with disabilities, sponsors, media agencies and friends as well as my colleagues, who have always accompanied and supported ACDC throughout the past.
We hope that in the next period, we will have the opportunity to continue to work with you, receive your cooperation and support. All for the integration, for the independent life and the more active contribution of Vietnamese persons with disabilities in the upcoming development path.
Best regards,
Nguyen Thi Lan Anh – Director
Action to the Community Development Institute (ACDC)
----------------------------------------
Annual Report 2020 details here